Purchase Marks First-Ever Acquisition of Municipally-Owned Wastewater System by Private Water Company in Connecticut

BRIDGEPORT, CONN. – October 6, 2023 – Aquarion Water Company today announced that the company has closed on the purchase of the Town of New Hartford's municipal water and wastewater treatment systems. The purchase marks the first full privatization of a municipal wastewater system in Connecticut. The $8 million transaction will also result in an immediate reduction of both water and wastewater rates.

"We are excited to welcome New Hartford residents to the Aquarion family," said Aquarion President Donald Morrissey. "We are looking forward to providing our newest customers with the industry-leading service and high-quality drinking water and wastewater services that families and businesses across New England have counted on for more than 165 years."

Aquarion was selected to purchase the town's systems through a competitive RFP process held in December 2017 and approved by voters in a March 2021 townwide referendum.

"Our residents and businesses rely on safe, clean water and the efficient management of wastewater," said New Hartford's First Selectman Dan Jerram. "In Aquarion we have a partner with the expertise, financial resources, and in-depth understanding of our town's infrastructure to provide residents with the reliable, cost-effective service they deserve."

With the proceeds from the purchase, New Hartford will repay debt associated with the wastewater plant, fund the expansion of the wastewater system into the Pine Meadow section of town, and provide a long-term subsidy of wastewater rates.

"Expanding the sewer system will not only protect drinking water sources, it will help to stabilize rates by serving a larger customer base," said Jerram. "Additionally, water customers will see their bills reduced by about 15% and sewer customers' bills will decrease by about 10%. It's a real win-win for the town and its residents."
"We are honored to be able to serve the community of New Hartford and appreciate the trust that town leaders and residents have placed in us," added Morrissey.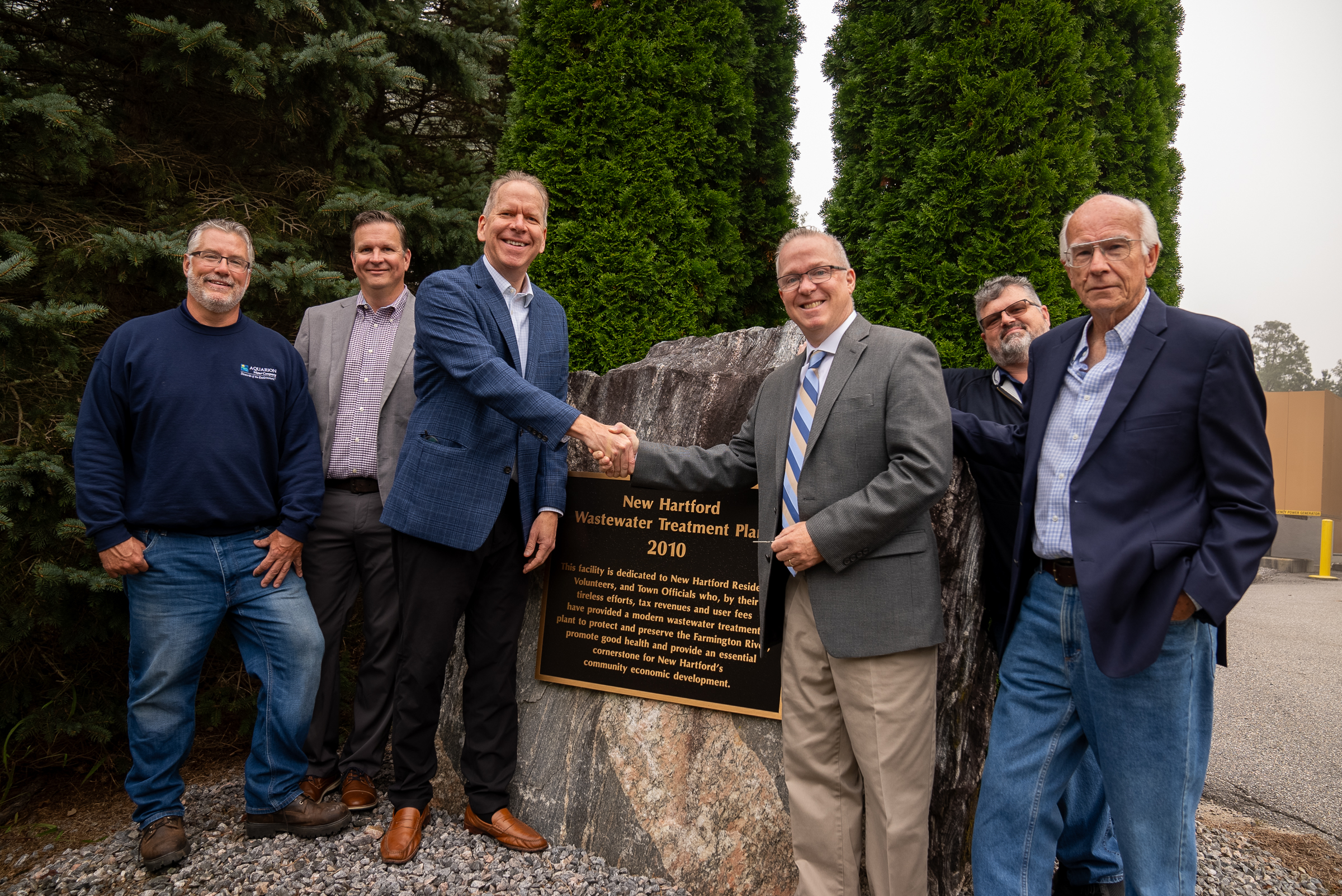 Donald Morrissey and Daniel Jerram congratulate each other on the completion of the New Hartford water and wastewater systems acquisition.
Pictured left to right:
Thomas Bouchard, Aquarion Class III Wastewater Treatment Plant Operator - New Hartford; Adam Simonsen, Aquarion Director of Business Development; Donald Morrissey, Aquarion Water Company President, Daniel Jerram, New Hartford First Selectman; William Embelton, Aquarion Class IV Wastewater Treatment Plant Operator - New Hartford; Denton "Bud" Butler, New Hartford WPCA Chairman